This page lists the selected site of the month in BibleWalks.com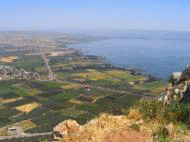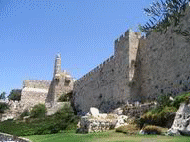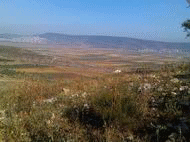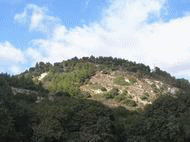 Home > Sites > Site of the month – 2015
   This page is a gallery  of the Biblical sites that were selected by BibleWalks.com staff and readers as the "site of the month" during year 2015.
   The selection of the "site of the month" is usually a new site that was added during that past month and was considered at that time as an important addition to the web site and worthy of highlighting. You can look on these sites in order to visit these  "best" sites.
   The sites are ordered from the recent month on the top.
To see more of the site, click on its header.
Dec  2015 Belvoir
    Ruins of an impressive Crusaders fortress located on a high cliff above above the northern Jordan valley.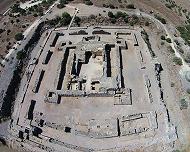 Nov  2015  Jericho
    Ruins of Hasmonean and Herodian palaces built in the second temple period, in the southwest area NT of Jericho.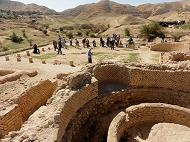 (Josephus Flavius Wars 4, 8: 2): "There are in it many sorts of palm trees… pronounce this place to be divine…".   
Oct  2015  St. George Koziba, Wadi Qelt
   St. George Koziba is a cliff hanging Byzantine monastery in the valley of Wadi Qelt, near Jericho.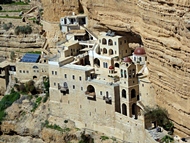 1 Kings 19:9: "And he came thither unto a cave, and lodged there…".
Sep  2015 Kesalon (Chesalon)
    Ruins of a Biblical city on a high hill in western Judea.
 Joshua 15:10:  "And the border … passed along unto the side of mount Jearim, which is Chesalon, on the north side…"
Aug  2015 Tel Yokneam
   An important Biblical city, stands in the entrance of a mountain pass through Mount Carmel.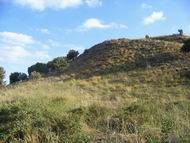 Joshua 12, 22: "the king of Jokneam in Carmel, one".
July  2015 Sisters Nazareth Convent
   The convent is located near the Basilica of Annunciation. Under the courtyard are archaeological findings dated to the 1st Century.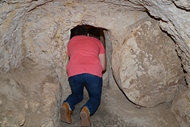 June  2015 Convent of Sisters of Our Lady of Zion
   A walled 19th Century monastery  built on the west hill of Ein Karem.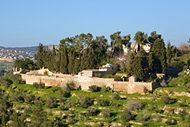 May  2015 Tel Tanninim
  Tel Tanninim ("Crocodiles mound") is the ruins of  the city of Crocodilopolis, situated at the mouth of Tanninim stream. Nearby is a fishermen's pier, village and beach.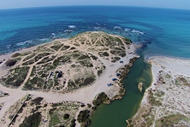 April  2015  Deir Qal'a
   Ruins of a Roman fortress and Byzantine monastery in Western Samaria.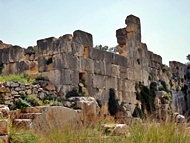 March  2015 St. George, Lod (Lydda)
   A Greek Orthodox church with remains of the most important Christian soldier-saint.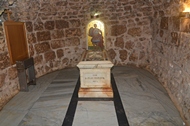 February  2015 Kh. Katzrin
  Ancient Katzrin is a restored Byzantine period village in the central Golan area.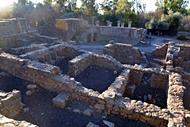 January 2015 Tel Gamma (Tell Jemmeh)
     Ruins of an ancient Canaanite and Philistine city on the Besor brook, identified as Yurza.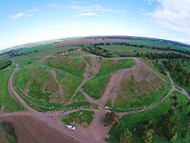 Archives:
To see the sites of 2014, click here.
To see the sites of 2013, click here.
To see the sites of 2012, click here.
To see the sites of 2011, click here.
To see the sites of 2010, click here.
To see the sites of 2009, click here.
To see the sites of 2008, click here.
To see the sites of 2007, click here.

   Other ways to view the sites:
BibleWalks.com – walk with us through the sites of the Holy Land
This page was last updated on Dec 20, 2015
Sponsored links:
Sponsored links: