A cross reference of BibleWalks sites with Nature photos – wild flowers, herbs and plants.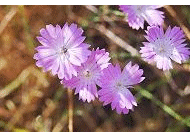 Song of Solomon 2:12: "The flowers appear on the earth; the time of the singing of birds is come"
Home > Info > Nature > Wild flowers and plants
Contents:
Sites with Wild flowers:
The following table lists the sites with special wild flowers, herbs and plants that are featured in BibleWalks site pages.
Click on the site's name to see more information, or on the photo to view it in higher resolution.
Flower's

name in

English

(and Hebrew)

Scientific

name

Biblical & Historical

References

Featured

Site

(click & go)

 Photo
(click_to_enlarge)

Squirting Cucumbers

(Yerikat Hachamor)

Ecballium

elaterium

2 Kings 4:38-39:

"And Elisha… found a wild vine, and gathered thereof wild gourds his lap full, and came and shred them into the pot of pottage…".

Tell

"Pretty

Carmelite"

(Carmelite Na-ah)

Ricotia

Brassicaceae

These delicate flowers, which grow among the rocks in most of the Galilee and here near the Carmelite monastery, are cross-shaped and resemble Carmelite crosses.
Stella

Yellow-

Asphodel

(Ironi-Tzahov)

Asphodeline

lutea

Stella

Tower of Bells

"Khatamit

Zifanit"

Althaea

setosa Boiss

Geva
Hispid

Viper's-bugloss

(Achna'i)

Echium Angustifolium
Pigeons

Israeli Luf
Arum

Palaestinum

Pigeons caves
Ephedra plant

(Sharvitan Matsui)

Foeminea

Forssk

Jerusalem Western wall: a bush of this Ephedra grew in the cracks, and during summer time it dropped water down to the prayer area.
Migdal-Malcha

Corn Poppy

(Pereg)

Papaver

subpiriforme

Isaiah 40 6-8:

"All flesh is grass, and all its beauty is like the flower of the field. The grass withers, the flower fades when the breath of the Lord blows on it; surely the people are grass. The grass withers, the flower fades, but the word of our God will stand forever".

Kh. Zagag

Oriental Viper's Grass

(Hardufnin Hatzitzit)

Scorzonera

papposa

Migdal-

Colchicum tauri

(Sitvanit Hermon)

Colchicum

tauri

Sitvanit is referred in the Mishna, the 2nd C AD books of Jewish practices, where it is said to be used to produce vinegar
Beit Jan

Jerusalem Autumn-crocus

Colchicum hierosolymitanum

" " "
Airplane hill, Jerusalem

Spiny Hawthorn

(Uzrar Kotzani)

Crataegus

aronia

One of the Christian traditions is that the Jesus' crown of thorns was twisted from twigs of the bush, and thus the bush is also called "Christ Thorn"
Beit Jan

Eastern Strawberry

(Katlav Matsui)

Arbutus

andrachne

2 Samuel 18:9-17: "And Absalom rode upon a mule, and the mule went under the thick boughs of a great oak, and his head caught hold of the oak,…"
Beit Jan

Globe-thistle

(Kipodan)

Echinops

adenocaulos

Matthew 13 7:"…and the thorns sprung up…".
Zavat

Silverleaf Nightshade
Solanum

Zavat

Daffodils

(Narkis)

Narcissus
Possibly – Lily of the valleys:

Song of Solomon 2 1: "I am the rose of Sharon, and the lily of the valleys".

Zavat

Wild white mustard

(Hardal Lavan)

Synapis alba
Zavat

Splendid Bindweed

(Khavalval-Hasi'akh)

Convolvulus

dorycnium

El Khader

(Rakkefet)
Cyclamen

persicum

Barbary Nut

(Tsaharon)

Iris

sisyrinchium

Anemone

(Calanit)

Possible identification:

Isaiah 17 10: "Because thou hast forgotten the God of thy salvation … therefore shalt thou plant pleasant plants,…".

Hyssop Herb

(Ezov Matsui,

Za'atar)

Origanum

syriaca

Exodus 12:22:

"And ye shall take a bunch of hyssop, and dip it in the blood that is in the basin, and strike the lintel and the two side posts with the blood that is in the basin".

Sharta

Toothpick

(Ammita Gdola)

Ammi majus
Kh. Bata

Squill

(Hazav)

Urginea

maritima

(Legend) Joshua used the squill bulbs to mark the borders between the tribes.

Common

Giant Fennel

(Kelech Matsui)

Ferula

communis

Job 30 2: "Yea, whereto might the strength of their hands profit me, in whom old age was perished?"

Tell Beit

Roman Nettle

(Sirpad Hakadurim)

Urtica

pilulifera

Job 30, 7: "Among the bushes they brayed; under the nettles they were gathered together".
Tabor –

(Charchevina -Makchila)

Eryngium

creticum

Charchevina is listed in the Mishna, the 2nd C AD books of Jewish practices, as one of the plants that are allowed as Passover bitter herbs (Passachim 2: 6).
Beit Uriyah

Lilac Chaste Tree –

Monk's Pepper

(Siach Avraham Matsui)

Vitex agnus-castus
Genesis 22, 13: "And Abraham lifted up his eyes, and looked, and behold behind him a ram caught in a thicket by his horns: and Abraham went and took the ram, and offered him up for a burnt offering in the stead of his son".
Hilazon
Jerusalem Spurge

("Khalavluv Meguvshash")

Euphorbia Hierosolymitana
This shrub covers most of Gamla and flowers in the winter, painting the site in yellow-green.
Gamla
Syrian Bear's-breech

("Koziz Suri")

Acanthus

Syriacus

Omrit
Blue

Lupine

("Turmus

He-Harim").

Lupinus

pilosus

Omrit
Red

Everlasting

("Dam Hamacabim")

Helichrysum sanguineum
According to the legend, the flower commemorates a place where the blood of the 2nd C BC Israelite freedom-fighter has been spilled.
Dan
"Zamzumit Hamidbar"
Desertorum Bellevalia
This desert flower is found in Jordan, Judea, Negev and Sinai. It blooms in winter.
Horkania
Bethlehem

Star

Ornithogalum lanceolatum
The star-like flower links to the story of the Bethlehem star, that revealed the birth of Jesus to the wise men.
Kabra
Mandrake flowers (Hebrew: Duda'im)
Mandragora autumnalis

The fruits of this plant were used for treating fertility problems (Genesis 30:14): "And Reuben went in the days of wheat harvest, and found mandrakes in the field, and brought them unto his mother Leah. Then Rachel said to Leah, Give me, I pray thee, of thy son's mandrakes".
Yattir
Israeli Iris
Iris Palaestina
A small flower with white flowers and yellow strips.
Yattir
Syrian Bindweed

(Hebrew: Havalval Suri)

Convolvulus Coelesyriacus

Bois

Annual vine, flowers in March to May
H. Danaila
Tulip

( Hebrew: Tsivoni He-Harim)

Tulipa agenensis

Tulipa is based on the Turkish name Turban – meaning hat.

Flowers February thru April, just before spring.

In the 17th century the Ottoman Sultan gave bulbs as present to the Austrian ambassador. It then was adapted in Netherlands and became their national flower.

Horvat

Syrian Cornflower-thistle, Knapweed

(Hebrew: Dardar Kakhol)

Centaurea cyanoides

Flowers March thru May.
Horvat
Iris Gilboa

(Hebrew: Iris Ha-Gilboa)

Iris Haynei
Flowers March thru April, on the high Gilboa mountain. The best place to see these flowers is a forest near Malkishua.
Gilboa
Charlock

(Hebrew: Hardal Hasadeh)

Sinapis arvensis
Flowers December thru May, covers large areas
Many sites
Campanula Sidoniensis

(Hebrew:Pa'amonit Zidonit)

Campanula Sidoniensis
Flowers April and May.
Horvat Zunam
Sea daffodil
Pancratium Maritimum
Song of Solomon, 2 : 1-2: "I am the rose of Sharon, and the lily of the valleys. As the lily among thorns, so is my love among the daughters".
Masref
Specials:
Some outstanding views of wildflowers can be seen in Israel. Here are some samples.
Anemone (Calanit) in Maoz Haim, Beth Shean Valley  [Feb 2012]: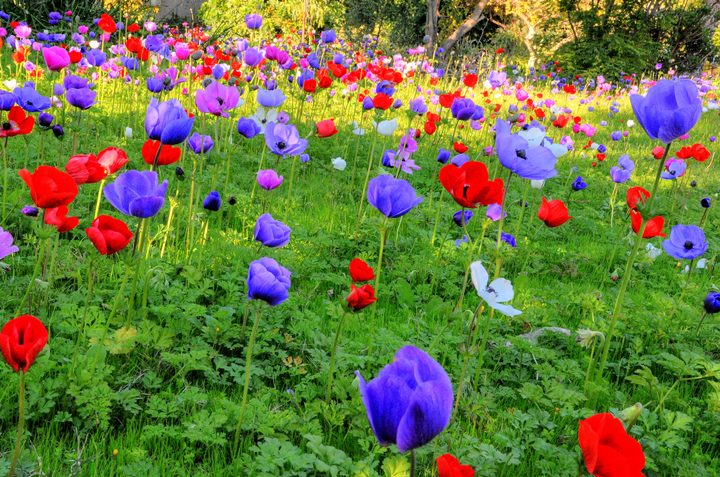 The "Darom Adom" ("Red South") festival is held in the Negev area during the winter season, when thousands of red Anemone (Calanit) flowers  cover the fields. [February 2017].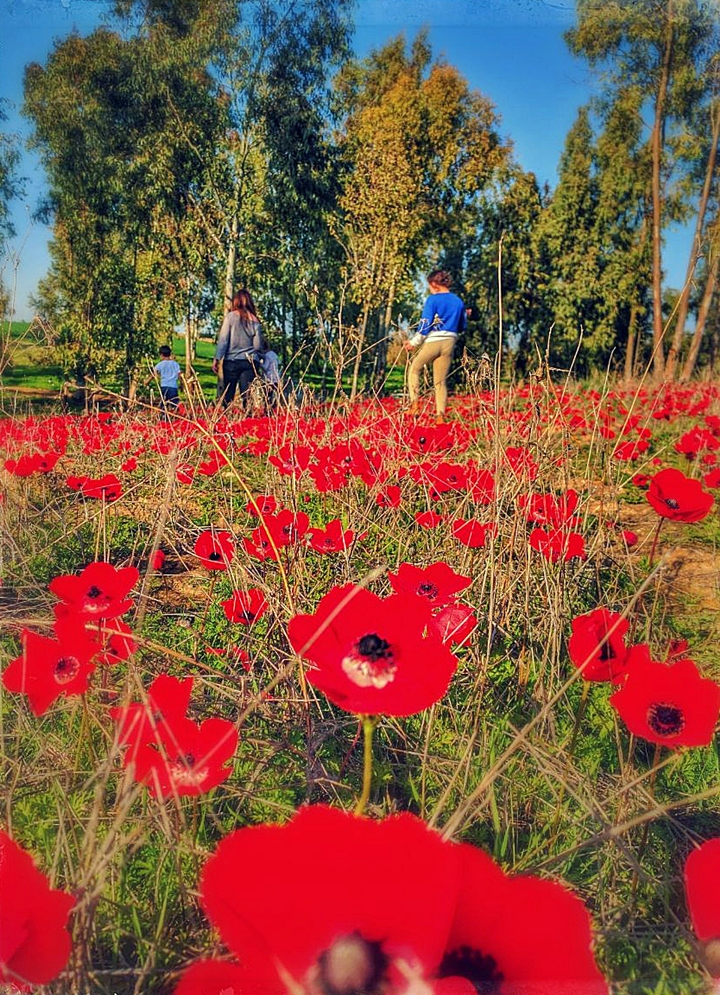 Photo by Eitan Dvir
Biblical references:
  These are dozens of references to flowers, herbs and plants in the Bible. Here are some samples –

  Song of Solomon 2:12:  "The flowers appear on the earth; the time of the singing of birds is come"

Psalms 103:15: "As for man, his days are as grass: as a flower of the field, so he flourisheth."

Proverbs 15:17: "Better is a dinner of herbs where love is, than a stalled ox and hatred therewith".

Genesis 1:11:  "And God said, Let the earth bring forth grass, the herb yielding seed, and the fruit tree yielding fruit after his kind, whose seed is in itself, upon the earth: and it was so".

Job 14 9:"Yet through the scent of water it will bud, and bring forth boughs like a plant."
Etymology (behind the name):
Perach, Perah – Hebrew: flower
Links:
Tiuli – Flowers of Israel
---
BibleWalks.com – "The flowers appear on the earth; the time of the singing of birds is come"
Airport mosaics <<<—Previous info—<<< All Info >>>—Next Info—>>> Trees
This page was last updated on May 4, 2019 (Added Pa'amonit)
Sponsored links: