This page shows the recently added sites, starting from newest  on the first line. The purpose of this page is to keep a track of the changes of the featured Biblical sites in the web site.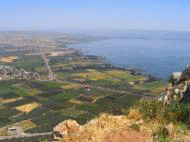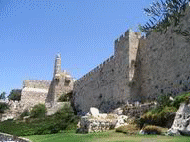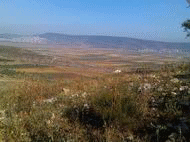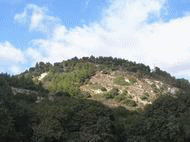 Home > Sites > Latest added sites
To see more of the newly featured site, click on its header.
A list of all sites can be seen in the sites overview.
---
Khirbet el-'AlyaA multi-period site that towers over the west side of Ramat Beith-Shemesh Aleph.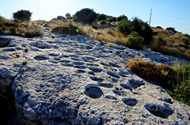 Ruins of a Israelite period desert fortress and settlement, later reused by the Nabateans.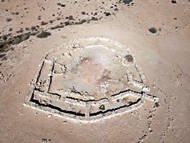 Horvat RitmaRuins of a Israelite period desert fortress and small settlement, near the confluence of  Nahal Boker and HaRoeh streams with HaBasor stream.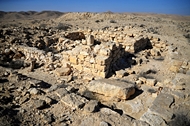 Ruins of Iron Age fortress and settlement, overlooking the valley of Nahal Boker.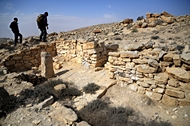 A ruined Jewish village of the first and second temple and the Roman/Byzantine periods, with ruins of a synagogue.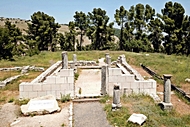 Remains of an ancient multi-period port city, south of the ford of Nahal Hadera river.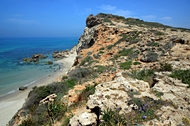 On the eastern foothills of Mt. Ebal are remains of an Iron Age ritual place, suggested as an altar built by Joshua.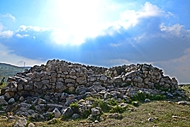 A Roman village, Crusader fortress and Ottoman period village on a hilltop near Kibbutz Tzova, west of Jerusalem.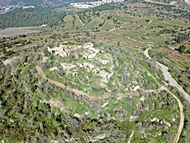 Remains of an ancient multi-period Tel, the largest and important archaeological site along the Nahal Alexander river.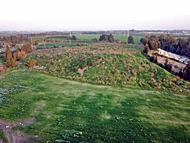 A mysterious ritual site and settlement near the Horns of Hattin.

  A hilltop stronghold protecting the road to Jerusalem, constructed over the ruins of Roman and Crusader forts. Fierce battles occurred here in 1948 in an effort of the Israeli forces to open the road to besieged Jerusalem. Today – a National Park.
   Burj el maleh (also: Burj el-Malih – "The salt fort") is a Crusader hilltop fortress, commanding the ancient road of Wady Malih.
Oct 11,2020
Oct 3, 2020
Ruins of an Early-Roman Jewish rural village in the Judean foothills region, south of the valley of Elah. The remains include residential houses, cisterns, several ritual baths (Miqveh), ancient synagogue, wine presses and other farming installations.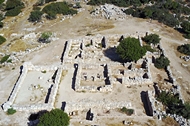 Sep 27, 2020
Sep 19, 2020
The largest Biblical mound in the lower Galilee, with remains of multi-period Canaanite and Israelite cities.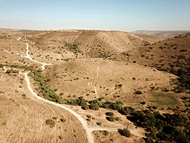 Aug 1, 2020
An elaborate underground complex of Early Roman tombs located in the Sanhedria neighborhood in Northern Jerusalem.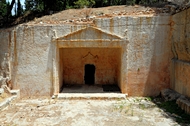 July 4, 2020
A possible location of Jesus's first miracle – turning water to wine. The site is located near the traditional place in Kafr Kanna.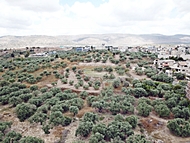 June 6, 2020
May 8, 2020
Apr 25, 2020
Apr 20, 2020
In Jaffa are several public fountains (Sebils) dated to the Ottoman period.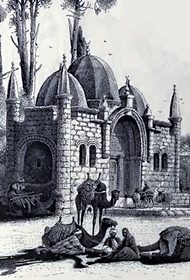 Apr 15, 2020
Traditional tomb of Rachel, located on the outskirts of Bethlehem.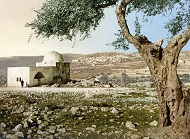 Apr 11, 2020
A mysterious complex of caves above the Kziv stream, in the Upper Galilee area, with a large engraving of  a Roman soldier on the surface of the cliff.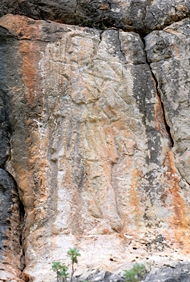 Apr 9, 2020
Apr 4, 2020
A lookout place on Mt. Gerizim, with great views of Tel Shechem, modern Nablus,  and  the tomb of Joseph. Joshua 24:32: "And the bones of Joseph, which the children of Israel brought up out of Egypt, buried they in Shechem…".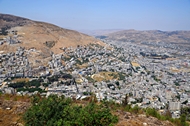 Mar 27, 2020
Rujm el-Hiri Gilgal Refaim
   A massive megalithic complex in the Golan heights, regarded as the "Stonehenge of the Levant".
Mar 7, 2020
Mar 2, 2020
Skull (Zuttiyeh) cave where Early man remains were found.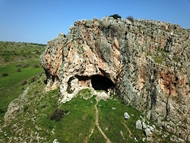 Sep 24, 2019
   A famous prehistoric cave in the south west cliffs of Mt. Carmel.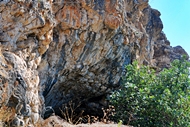 July 28, 2019
  Bronze age copper smelting installations in the Northern Aravah area.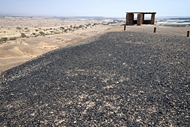 June 23, 2019
  Ruins of a Middle Bronze Age fortress are located on an edge of a cliff overlooking the deep gorge of Nahal Kziv.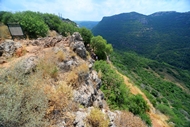 June 20, 2019
  An impressive fortified Byzantine monastery, built over a Late Roman fortress.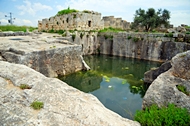 June 5, 2019
  Ruins of a small Upper Galilee village, dated to the Roman/Byzantine period, with impressive group of sarcophagi.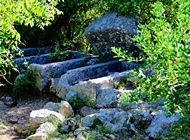 May 22, 2019
Ruins of an ancient fortified Biblical city, situated on a natural hill overlooking the Yavna'el valley. Joshua 19: 33: "And their coast was …  and Adami, Nekeb, and Jabneel…".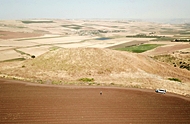 May 19, 2019
  Ruins of a Biblical city. Some scholars suggest this was Ramathaim Zophim – the home city and place of burial of prophet Samuel.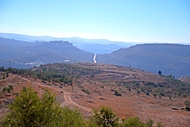 May 13, 2019
  Ruins of an unknown  Hasmonean/Herodion fortress on a hilltop on the bend of Nahal Natuf stream.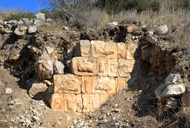 May 4, 2019
  Ruins of a large Upper Galilee village, dated to the Byzantine and Mameluke/Crusader period. Its nickname – "the lost city" – is derived from its obscurity, as it was hidden inside the thick forest.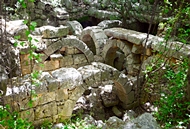 Apr 10, 2019
Zereda (kh. Banat Bar)
    Ruins of an Iron Age fortress and village, identified as the home town of Jeroboam son of Nebat who split United Monarchy.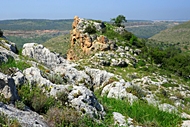 Mar 30, 2019
   Akhbara was a Roman period village, fortified by Josephus Flavius. An impressive 100m high cliff ("the Rock of Akhbara") soars above the valley, dotted with caves.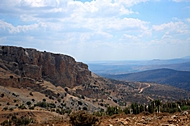 Dec 22, 2018
  Ruins of a prehistoric and Iron Age fortified city situated on a volcanic cone in the eastern Upper Galilee region.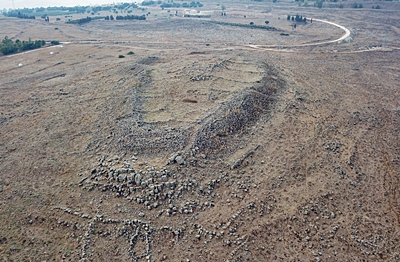 Dec 7, 2018
  A large archaeological mound on the bank of Nahal Gerar, identified as David's Ziklag.
1 Samuel 30:1-3: "David and his men were come to Ziklag".
Sep 16, 2018
    On the east side of the Mar Elias monastery, is a site named  "Hill of the Four" (Giv'at Ha'Arba'a). This web page reviews the major points of interest on the hill.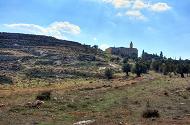 Sep  10, 2018
    On the west side of the Mar Elias monastery, is a site named  "Airplane hill" (Giv'at Hamatos, Khirbet Tabaliya).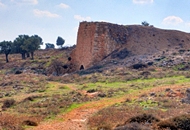 July 25, 2018
Halamish (Neveh Tzuf)
    Ancient winery complex, oil presses, tombs and spring in and around the community of Halamish/Neveh Tzuf.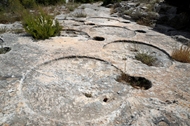 July 7, 2018
    A spring, pool and garden located in a valley south of the community of Dolev.
June 20, 2018
  On the hill are ruins of a village and agriculture installations dated to the first temple and Roman/Byzantine periods.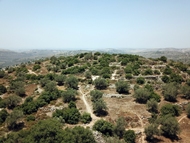 June 6, 2018
  Ruins of a roman period settlement, with agriculture installations, cisterns and hiding complexes. Perhaps this site is related to the Timrat Sabbath stone.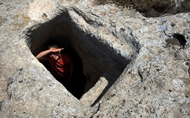 May 16, 2018
   Around Tel Gezer are ancient Bilingual inscriptions cut on rocks, bearing the name of Alkios and Hebrew letters bearing the name "Gezer".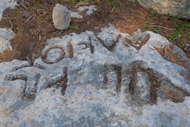 May 7, 2018
  Sabbath boundary marker found in Timrat, with 3 letters in Hebrew. The marker was dated to the Roman period.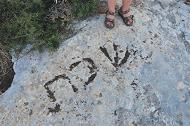 Apr 28, 2018
  Ruins of  a Roman/Byzantine agriculture village in the Upper Galilee region.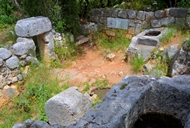 Apr 14, 2018
  Remains of a Crusader fortified farmhouse, in the center of et-Taiyibe in the Jezreel valley.
Feb 27, 2018 (Major Update)

   Tel Hazor is one of the largest, most important biblical sites in the Canaanite and Israelite periods. The Bible gave it the title: "the head of all those kingdoms".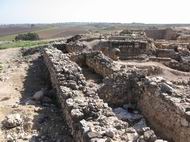 Joshua 11:10: "And Joshua at that time turned back, and took Hazor, and smote the king thereof with the sword: for Hazor beforetime was the head of all those kingdoms."
Dec 31, 2017 (Major Update)
   The site is  located on an extinct volcano. It was a Canaanite and Israelite city (Adamah?), but best known for the crucial battle between Saladin and the Crusaders in 1187.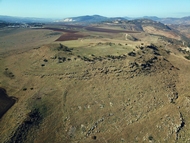 Joshua 19 32-6: "The sixth lot came out to the children of Naphtali, …
And the fenced cities are … Rakkath, and Chinnereth, and Adamah, …"
Nov 27, 2017
   A remarkable national park, with remains of a multi period settlement situated on a Kurkar sandstone cliff, and a Crusader fortress.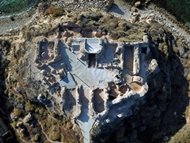 Nov 3, 2017 (Major update)
  Megiddo was an important Biblical city. The site is situated on the gateway on the road linking North and South of Israel, about 30 Km south-east of Haifa.  The archeologists uncovered 26 layers of ancient cities.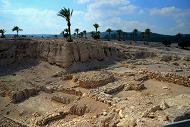 1 Kings  9-15: ".. and Hazor, and Megiddo, and Gezer."
Oct 10, 2017
  Ruins of a second temple period fortified village, west of Zur Hadasah. Identified as the village of Geresa.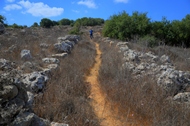 Wars 4,9,1: "Vespesian…  also sent Lucius Annius to Gerasa."
Sep 22, 2017
   Ruins of a second temple period fortified village, west of Gush Etzion.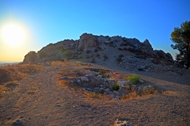 Aug 26, 2017
   Ruins of a Late Roman desert fortress, that was converted to a Byzantine monastery.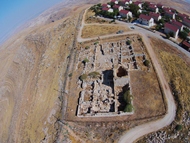 July 22, 2017
   Ruins of a multi-period Biblical city on a flat topped mound. A possible identification is Libnah.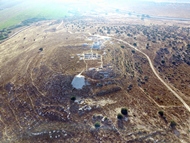 Joshua 10:29): "Then Joshua … fought against Libnah:".
June 26, 2017
Horvat Zakkur, Nirit
   Remains of a multi period settlement situated on the top of a high hill, on the north bank of Nahal Qana (Kanah), south of Nirit.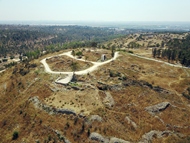 May 2, 2017 (Major update)
   Remains of a Biblical city, dated to the times of David. Its name means "two gates", which were found in the excavations of Khirbet Qeiyafa.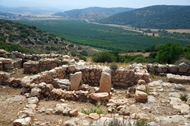 1 Samuel 17:52: "… by the way to Sha'araim…"
Mar 24, 2017 (Major update)
   Ruins of an Early Roman fisherman village, near the Arbel cliffs, on the shores of Sea of Galilee. Known as the birthplace of Mary Magdalene.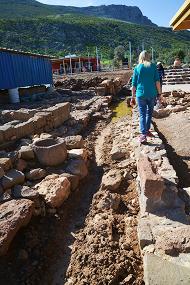 Mar 13, 2017
   Bronze and Iron age findings in the area between Ma'ale Michmash and Michmas.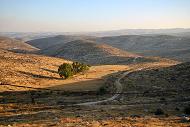 1 Samuel 13:5: "And the Philistines gathered … and pitched in Michmash"
Mar 3, 2017
   Ruins of a Biblical city in the community of Psagot. This may have been the site of Joshua's Ai.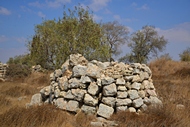 Joshua 7:2:  "And Joshua sent men from Jericho to Ai…"
Jan 29, 2017
   A famous prehistoric cave above the bank of the Natuf valley. It gave the name of an Early Man culture.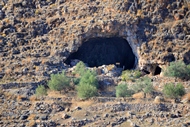 Jan 28, 2017
   Ruins of an ancient village in the Gofna mountain region in Samaria. Nearby is a memorial park with pools and springs.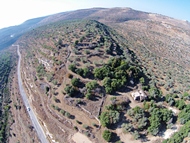 Jan 19, 2017
   Several Iron Age altars were found around the worship center of Shiloh.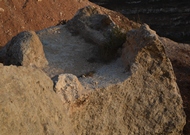 (Exodus 27:2):   "And thou shalt make the horns of it upon the four corners thereof…".
Jan 13, 2017
 Ruins of a fortified village situated near the Lebonah ascent. Identified as Kfar Lakitia – one of the Roman garrisons at the end of the Bar- Kokhba revolt.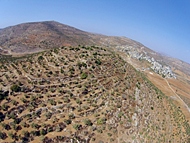 Judges 21:19: "…… from Bethel to Shechem, and on the south of Lebonah".
Dec 17, 2016
   Kh. Tibneh, in the hill country of Ephraim, is identified as Timnath- Serah or Timnath-Heres – the burial-place of Joshua according to the Bible.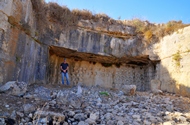 Joshua 24: 30: "And they buried him … in Timnathserah…".
Dec 12, 2016
   A sacred site in Beit El is suggested as the place of Jacob's dream.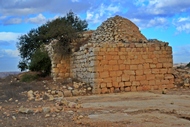 Genesis 28:12: "And he dreamed, and behold a ladder …".
Nov 26, 2016
   The Biblical city of Arumah is situated on a steep hill southeast of Itamar. On its foothills are huge cisterns and ruins of Hasmonean fortifications.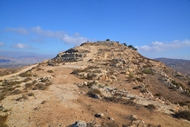 Judges 9: 41: "And Abimelech dwelt at Arumah…"
Oct 2, 2016
Sites along the Allon Road, that crosses the eastern side of Samaria from North to South.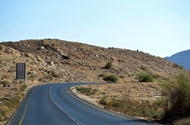 Sep 12, 2016
   Ruins of a Canaanite and Israelite major city located on a hill near Samiya spring.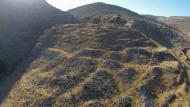 Aug 25, 2016
   A Roman/Byzantine and Ottoman period village, located near a spring on the foothills of Mt. Baal-Hazor.  A unique Middle Bronze cemetery is located on its west side.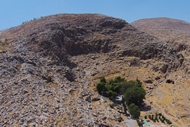 July 23, 2016
  Ruins of a multi period village, from the Early Bronze to the Ottoman period, on the side of Allon road in Samaria.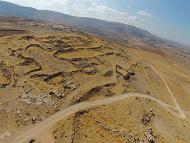 July 9, 2016
  Additional places near Tel Maresha – Sidonian burial caves,  ruins of St. Anna church, Roman milestone.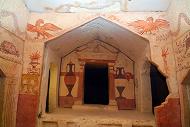 June 14, 2016
   Ancient Iron Age and Hellenistic period city, with an amazing underground lower city. A UNESCO World heritage site.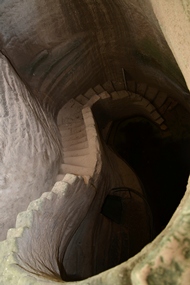 May 27, 2016
   Observation point on Mt. Saul, overlooking the Jezreel valley and Mt. Gilboa. Named after King Saul and his sons who died here fighting the Philistines.
(2 Samuel 1:21): "Ye mountains of Gilboa, let there be no dew…".
May 15, 2016
  Ruins of a Crusaders frontier fortress, later fortified in the Ottoman period,  in the Upper Galilee.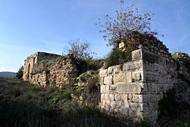 May 6, 2016
  Ruins of a Crusaders fortress, near a key river crossing over the Upper Jordan river.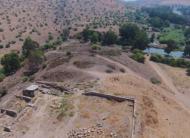 Apr 23, 2016
  Impressive and well preserved Nabatean site, a station along the Incense route.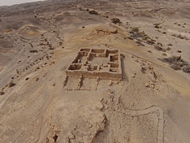 Apr 9, 2016
   Prehistoric sites, including a settlement, tombs and temple, dated to the Middle Bronze 1  period.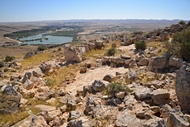 Mar 28, 2016
       This page is an overview of the ancient sites of Ashdod, with direction to its major ancient sites.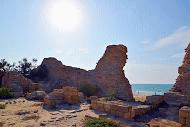 (1 Samuel 5:1): "the Philistines took the ark of God,
and brought it from Ebenezer unto Ashdod".
Mar 24, 2016
Gath (Tel Zafit, Tell es-Safi)
   Tel Zafit (Tell es-Safi) is one of the largest Biblical sites in Israel. Settlement  started in the Early Bronze Age, and was occupied with some interruptions for 5,000 years until modern times. It is widely accepted by scholars as the Philistine city of Gath – the hometown of Goliath.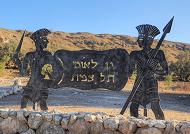 1 Samuel 5:8: "Let the ark of the God of Israel be carried about unto Gath".
Feb 6, 2016
   Ruins of a large multi-period Canaanite city near Kiryat Gat, first fortified in the Early Bronze I period.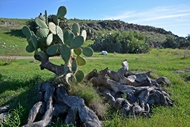 Jan 14, 2016
Ruins of a huge fortress dated to the Crusaders and Mamluke periods, on a high hill above the city of  Zefat.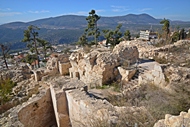 Matthew 5: 14: "A city that is set on an hill cannot be hid.".
Jan 2, 2016
   Remarkably preserved village in the Negev Highland area, dated to the Intermediate Bronze period.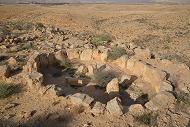 ---
BibleWalks.com – follow the Bible through the sites of the Holy Land
This page was last updated on Sep 21, 2021