This page summarizes the sites that are reviewed in the region of Hilazon (Chilazon) creek, in the north of the lower Galilee.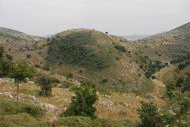 Home > Sites > Lower Galilee > Hilazon Valley > Sites Gallery
On each site below you can:
read a short summary (above the picture)
read the biblical reference (below the picture)
click  on the title to get to the review of that site.
click on the photo to see the picture at full resolution.
---
   Ruins of an Iron age  site, in the hills above the plain of Cabul. An 11th-8th century BC Phoenician fortress, regional administrative center, military post and agriculture village. The site  may be identified with the Biblical Cabul from the times of King Solomon.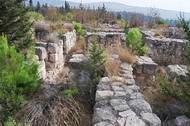 1 Kings 9:11,13: "King Solomon gave Hiram twenty cities in the land of Galilee…And they were called the land of Cabul, unto this day"
   Ruins of a Bronze and Iron age  site, on a hill  in the entrance to  the Hilazon creek, within the "land of Cabul". It may be identified as the Biblical city of Ne'iel.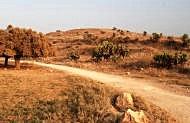 Joshua 19: 24-27: "And the fifth lot came out for the tribe of the children of Asher … And their border was … and Neiel, and goeth out to Cabul on the left hand".
Today an Arab city (Kabul) 8KM from the bay of Haifa, on the west hills of the Galilee. It was destroyed by Cestius in the wake of the Jewish revolt. In Roman times – a large Jewish city.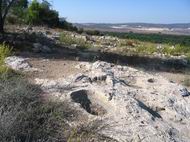 Kings I 9: 13: "And he said: 'What cities are these which thou hast given me, my brother?' And they were called the land of Cabul, unto this day".
    An ancient site located on a hill in Hilazon (snail) creek, south of Karmiel.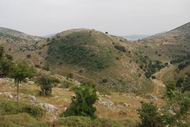 The Hilazon (Chilazon – snail) creek flows south of the Beit-Kerem valley, from the Sachnin valley to the plains of Acre. Along its path are a number of ancient sites, starting from the prehistoric periods.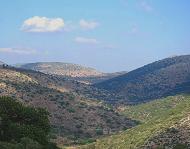 A prehistoric cave with remains of 12,000 year old civilization, and a unique grave of a shaman woman.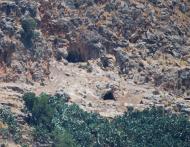 Ruins of a Roman agriculture village, on the south side of Hilazon creek. It is recently being excavated.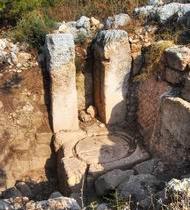 Ruins of Bronze and Iron age fortified city, located on a steep hill at the junction of Misgav. According to a notable scholar, it may have been the Biblical city of Hukuk (Huquq).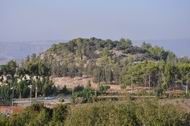 Joshua 19 34: "…and went out from thence to Hukok".
---
BibleWalks.com – walk with us through the sites of the Holy Land
Sites Navigation:  On all featured sites, you can use the navigation aid at the end of the page for proceeding to the next site. The navigation bar takes you through a tour of the sites. At the bottom of each site you can navigate forward or backward, or return back to a full list of all sites in all regions of Israel.
<<<All Sites>>>—next Hilazon site—>>>  Rosh zayit
This page was last updated on Oct 4, 2009
---
Sponsored links + sample links to BibleWalks sites: