Search for the "treasure chest" using your knowledge on Biblical sites.
Home > Sites >Sites Games (overview)
This page  is a starting point for the BibleWalks sites quiz. Use your knowledge on Biblical sites to navigate through the places of interest, searching for the "treasure chest".
    Select one of the topics below, then start playing the game. In each step you will be presented a map of sites, and asked on a certain question on a BibleWalks site which is related to  theme of the game. You will need to click on the right site in order to go to the next step. If you miss – no problem – simple go back to the previous page.
  After several successful steps you will arrive to the "treasure box".
   Follow the footsteps of the mighty prophet of Elijah.
   Simple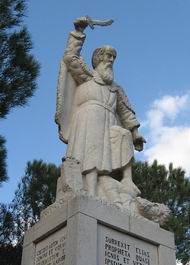 More quizzes will be added in future.
BibleWalks.com – walk with us through the sites of the Holy Land
This page was last updated on Aug 27, 2010
Sponsored links: