New site added in Judea region:
   The Castel
   A hilltop stronghold protecting the road to Jerusalem, constructed over the ruins of Roman and Crusader forts. Fierce battles occurred here in 1948 in an effort of the Israeli forces to open the road to besieged Jerusalem. Today – a National Heritage site operated by the Israel Nature and Parks Authority.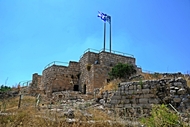 Visit the site: Castel National Heritage site
.