A map and aerial view of the Nabateans sites, with a link to their site review.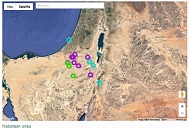 Home > Info > Nabateans > Maps
The sites of the Nabateans are marked on the Google satellite/road map.
Hover over the marker to see the title, and press on the marker to jump to that site's review. Select Map or Satellite display.
A table of sites appear below it; selecting any row will jump to its marker on the map.
The colored markers on the map stand for the classes of sites:
● Blue = Old Testament sites
● Purple= Nabatean/Roman/Byzantine sites
● Green= Nature/Farming sites
---
Nabatean sites

Avdat (Oboda)
Other
Impressive Nabatean city on the Incense Route.

Beerotaiim
Prehistoric/Nature
A desert Oasis and Nabatean farmng.

Gaza
Old Testament
A Nabatean port – the end of the ארשגק רםואק

Haluza (Elusa)
Other
A large Nabatean/Byzantine city.

Horvat Saadon
Other
Ruined Byzantine-Nabatean town in the western Negev desert

Loz Cisterns
Prehistoric/Nature
Archaeological site in Negev Highland area, with 17 water cisterns.

Maale Akrabbim
Old Testament
Trade route stations: Rogem Zafir, Horvat Zafir, Mazad Zafir.

Mamshit (Mampsis)
Other
An ancient Nabatean, Roman and Byzantine desert city situated along the Incense road.

Moa
Other
The first station in Israel along the Incense and Spice route.

Nitzana (Nessana)
Other
A Nabatean fortified station along the Incense route, then Byzantine city.

Nitzana cave
Prehistoric/Nature
Nabatean quarry cave and ancient farming lands

Petra
Old Testament
Capital city of the Nabateans

Rehovot (Negev)
Other
Ruins of the vast Nabatean/Byzantine town scattered over 130 dunam

Shivta (Sobota)
Other
Impressive ruins of a Nabatean, Roman and Byzantine city in the Negev desert.

Tamara
Old Testament
Israelite, Nabatean and Roman period fortresses near Hazeva oasis.
---
Links:
---
BibleWalks.com – walk with us through the sites of the Holy Land
This page was last updated on Jan 10, 2021 (new Google map)
Sponsored links + sample links to BibleWalks sites: