This overview page provides a list of the sites included in the BibleWalks archaeological survey of the Jordan Valley and its surrounding vicinity.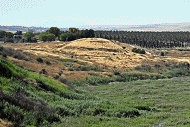 Home > Sites > Jordan Valley > Survey
Contents:
About
The Sites
Links and References

About:
Starting in May 2022, Biblewalks has embarked on an extensive survey of the Jordan River and its surrounding environs. The goal of this endeavor is to meticulously examine the ancient sites nestled in this region and subsequently share our discoveries through our website. Despite its historical significance, this area has remained relatively unexplored by archaeologists.
Encompassing the Jordan and Beit-Shean valleys, the northeast hill area of Samaria, as well as the eastern sectors of the lower Galilee and Jezreel valley, our survey encompasses a broad geographical scope.
Our dedicated team, spearheaded by archaeologist Ayelet Keidar-Goldberg from the IAA and the Hebrew University, alongside Yoram and Roni Hofman, is at the forefront of this initiative. Our survey activities are conducted on a weekly basis, specifically on Friday mornings. Following these field excursions, we diligently process the findings and subsequently share them with the public through our website and our YouTube channel. This approach ensures that our discoveries are made accessible to a wider audience, fostering a deeper understanding of the historical and cultural significance of the sites we explore.
---
The sites:
The following table shows the date of survey, the surveyed sites, and a link to their publication on BibleWalks.com or to Biblewalks' YouTube channel.
This list will grow…
---
Links and References:
* References:
* Internal:
---
This page was last updated on Sep 29, 2023 (surveys 44-45)
---
BibleWalks.com – "Arise, walk through the land in the length of it and in the breadth of it…" (Genesis 13:17)
Migda<<<—previous Jordan Valley site—<<< All Sites>>> — Next site—>>>Horvat Menorah
Sponsored links: