This page provides a map and aerial view of the sites that were visited by Jesus.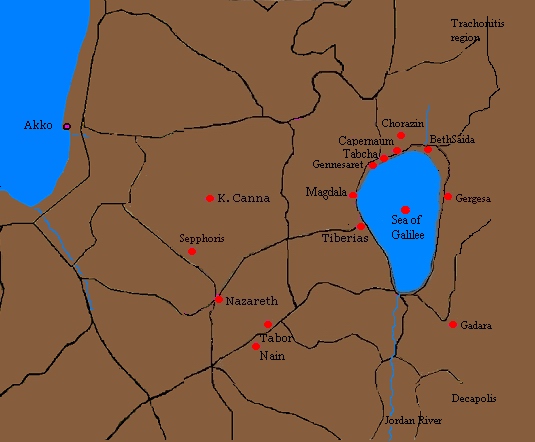 Home > Info > Jesus travel Maps
This page displays a selection of maps of the sites that were visited by Jesus and are described in the New testament.
Contents:
Sites of Jesus travels:
The following map shows the major places where Jesus visited in the 3 years of activities (27AD-30AD).
The sites are marked on the Google satellite/road map. Hover over the marker to see the title, and press on the marker to jump to that site's review. Select Map or Satellite display.
A table of sites appear below it; selecting any row will jump to its marker on the map.
The colored markers on the map stand for the classes of sites:
● Blue = Old Testament
● Red = New Testament
● Purple= other ancient periods,
● Green= prehistoric, nature
● Yellow= regional galleries
---
Jesus travels map

Bethsaida
Other

Caesarea Phillipi
Other

Cana
Other

Capernaum
New Testament

Gadara (nearby Hamat gader)
Other

Gergesa (now Kursi)
Other

Horns of Hittin
Old Testament

Jerusalem sites
Regional sites

Jesus boat
New Testament

Jordan Valley sites
Regional sites

Karm rs-ras
New Testament

Korazim
Other

Magdala
Other

Mt. Beatitudes
New Testament

Mt. Tabor
Old Testament

Nain
Other

Nazareth sites Gallery
Regional sites

Samaria City
Old Testament

Sepphoris
Other

Tiberias
Other
---

For a tabular detailed list – go to Jesus footsteps page.
References and Links:
* External:
* Internal:
---
BibleWalks.com – walk with us through the sites of the Holy Land
Jesus Footsteps <<<—Previous info—<<< All Info >>>—Next —>>>  Aqueducts
This page was last updated on Feb 20, 2020 (New Google Maps)
Sponsored links: