A Greek Orthodox  church in Ein Kerem, built in 1894 to service the local community.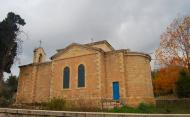 Home > Sites > Jerusalem > Ein Kerem > Greek Orthodox St. John
Contents:
Overview
Location
History
Photos
Etymology
Links

Overview:
  The Greek-Orthodox convent of St John the Baptist is located on the foothills of the western hill of Ein Kerem. It served the Greek-Orthodox community  in Ein Kerem. The ancient church (1894) was restored in 1975.
Location:
The church is located on the west hill of Ein Kerem.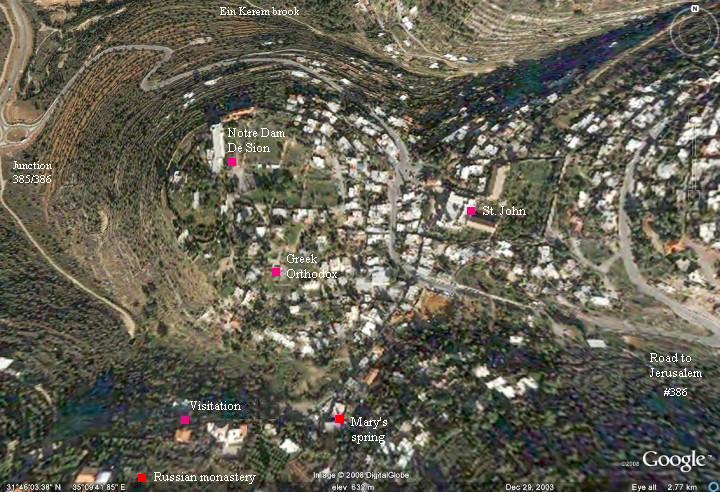 History:
    The Greek-Orthodox church originated from the early Christian churches. They are the oldest Christian orders in the Holy Land, and view themselve as the descendent of the Byzantine-Christians who ruled the land before the Arab conquest.  In 1054 the church split from the Roman Catholic church (known as the "Great Schism" event) due to theological  and political conflicts and a dispute on the supremacy of Rome over all other churches. The Greek-Orthodox church has four autonomous centers, with the Patriarchate of Jerusalem being the center of the church in the Holy Land. It is the largest church in Israel, with about 33% of the population – while the other churches are roughly 25% Greek-Catholics (Melkite) , 18% Latin-Catholics,  4% Maronite and 20% other Christians.
The church in Ein Kerem was built to serve the local Greek-Orthodox community in Ein-Kerem. It was constructed in 1894, on ruins of earlier levels. The church was restored in 1975.
---
Photos:
(a) General view:
The photo below shows a view from the road on the south side of the church.
Click on the photos to view  in higher resolution…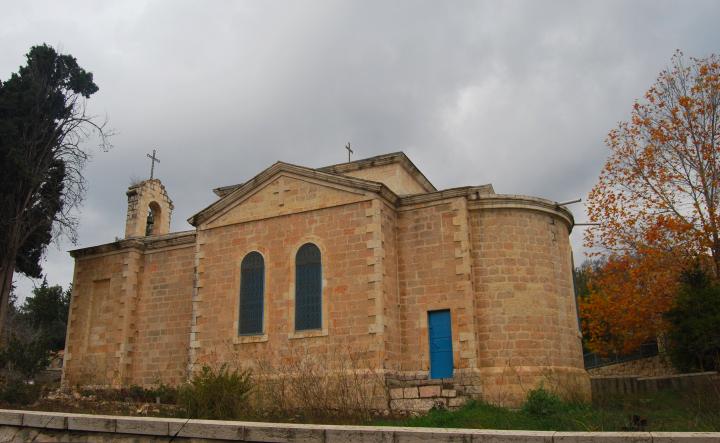 A view of the church is seen from the north-west.
A view of the church from the south side.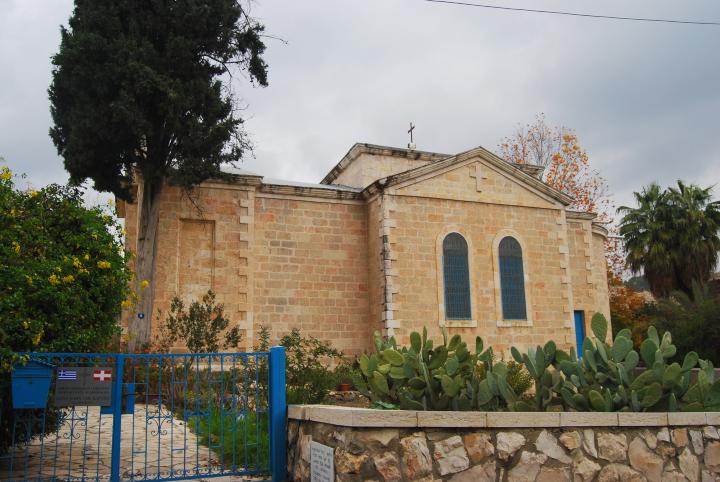 (b) Entrance:
The entrance is located on the west side.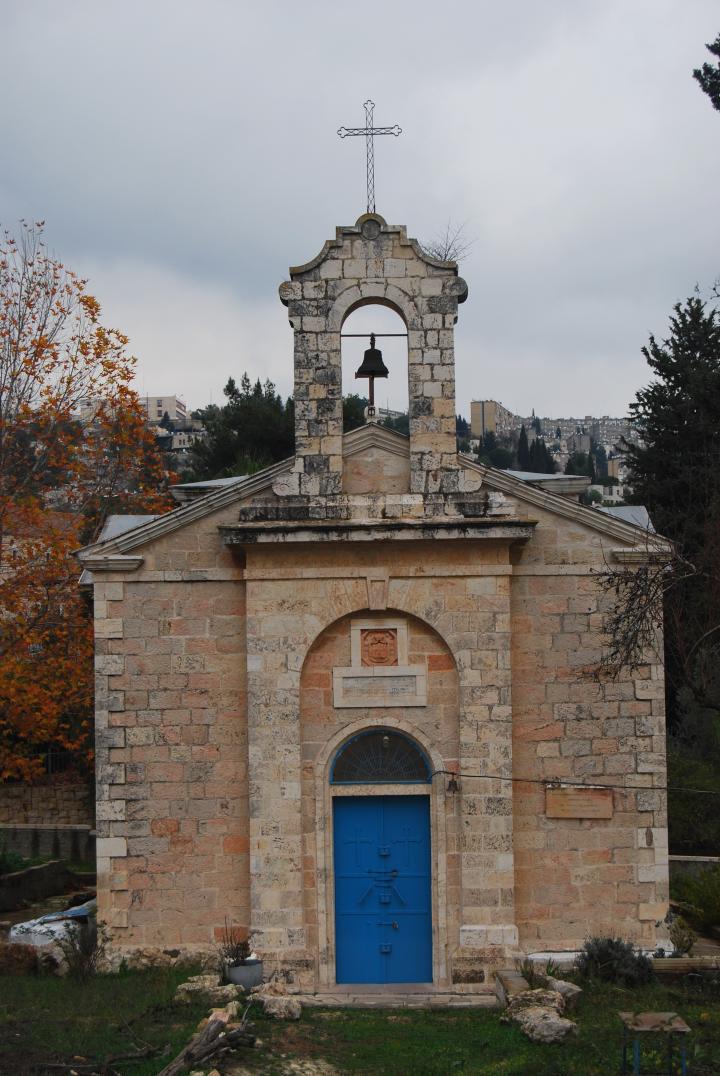 On top of the entrance to the church is a seal with the date of the construction – 1894.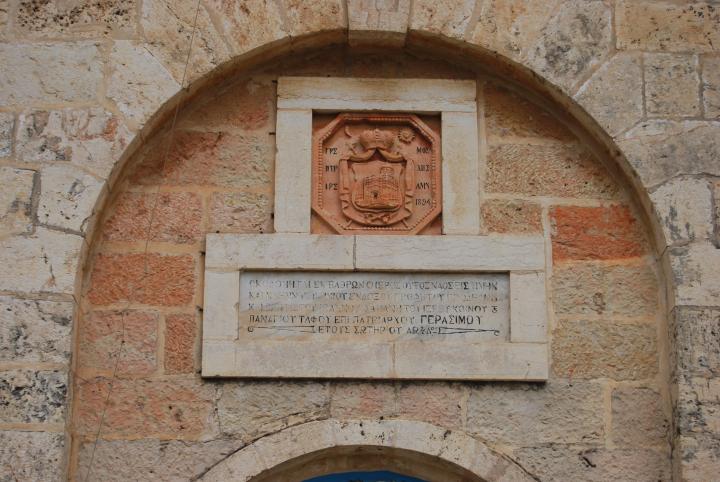 A closer view of the seal of the Greek Orthodox patriarchate of Jerusalem. The structure in the center of the seal is the Aedicule – the structure of Jesus tomb in the Rotunda within the  Holy Sepulcher. (Thanks to S. Browns for his correction)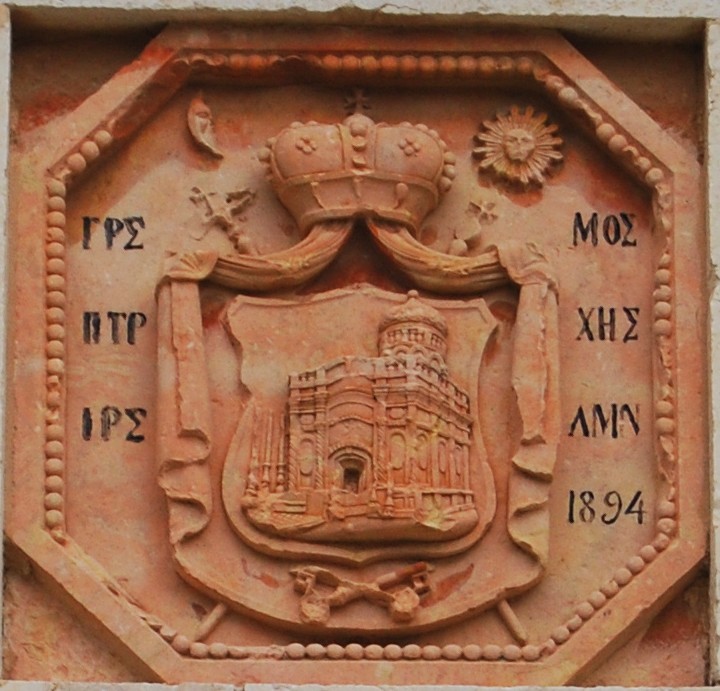 ---
Etymology (behind the name):
Kerem – Hebrew: vineyard. As in 1 Kings 23 1: ""And it came to pass after these things, that Naboth the Jezreelite had a vineyard".
Ein, Ma'ayan – Hebrew: spring. Based on "Ma'im" – water. There are dozens of references in the Bible, since water was a major factor in this dry land.
Ein Kerem (Karem) – the spring of the vineyard.
BetHaccerem – Hebrew: The house of the vineyard. Beth – house.
John – the Baptist. from Hebrew, "Yochanan", which means: Yo  (God) + Chanan (Pardoned). Thus the name in Hebrew means " God has pardoned".  Biblical Reference: Mark 1 4,5: "John did baptize in the wilderness…in the river of Jordan".
Links:
* Other BibleWalks sites in Ein Kerem:
* Other related BibleWalks sites:
* External links:
---
BibleWalks.com – walk with us through the sites of the Holy Land
St John Ba Harim<<<—previous site–<<< All Sites >>>—Next Jerusalem site—>>> Sisters Lady Zion
This page was last updated on Jan 16, 2013
Sponsored links: