A map and aerial view of the Crusaders sites, with a link to their site review.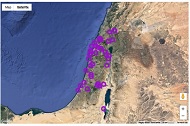 Home > Info > Crusaders > Maps
The sites of the Crusaders are marked on the Google satellite/road map.
   Hover over the marker to see the title, and press on the marker to jump to that site's review. Select Map or Satellite display.
A table of sites appear below it; selecting any row will jump to its marker on the map.
The colored markers on the map stand for the classes of sites:
● Purple= fortresses
---
Crusaders sites

Abdon
Other

Acre port
Other
The ancient port is located on the south east side of the old city.

Afek (Galilee)
Other
A two-story Crusader flour mill and fortress

Apollonia
Other
Remains of a Crusader fortress on a cliff on the coast

Ashdod
Other
The Crusaders renovated and reoccupied the Ashdod Maritime fortress

Ashkelon
Other
A Crusader border fortress in the Shefela

Ateret
Other
King Baldwin IV constructed a fortified outpost south of the pass; held 1 year

Atlit fortress
Other
A large Crusader fortress south of Haifa; the last outpost in the Holy Land

Banias Crusader city
Other
A frontier Crusader city in the Golan.

Beit Shean
Other
During the Crusaders times was a small town, first claimed by prince Tancred

Belvoir
Other
Impressive Crusaders fortress on a high cliff above the northern Jordan valley.

Burj el Maleh
Other
A Crusader hilltop fortress, commanding the ancient road of Wady Malih.

Caesarea Maritime
Other
A Crusader fortress along the coastal road from Acre to Jerusalem.

Castel
Other
Hilltop stronghold protecting the road to Jerusalem.

Dor
Other
Fortress on the acropolis, on the SW side of the city

Habonim (Cafarlet)
Other
A Crusader fortress on the coastal road

Hannathon
Other
A fortified farm was built on top of the hill

Hunin
Other
Ruins of a Crusaders frontier fortress in the Upper Galilee

Kh. Qarta Dustrey
Other
A small Crusaders post east of the Atlit fortress, built as a police station

Knights Halls Acre
Other
Crusaders main fortress and headquarters in Acre
---
Links:
---
BibleWalks.com – walk with us through the sites of the Holy Land
This page was last updated on Jan 6, 2021 (new Google maps)
Sponsored links + sample links to BibleWalks sites: