The sites we select to report on are mostly from the Holy Bible, and are the focus of interest of Christians and Jews. Many of these sites are a few Kilometers from my home in Lower Galilee, which is located exactly on the ancient route of Via Maris ("the way of the sea" ) that once connected Greece, Syria, and Persia  (in the North) to Egypt (in the South).
Near my back yard lies a Tel (archaeological mound),  a round hill with many layers of history, which was two thousand years ago  a trade  post along this ancient road. I can visualize the great leaders passing thru this ancient road, like Abraham, the Pharaohs, Alexander the Great, Napoleon and others – and  almost can hear the fading echoes of the caravans that once passed my home for thousands of years. Nowadays, it is modern traffic that passes exactly on the same north-south route. Thus, history mixes with the modern times. We are practically  "living with the bible" and would like to share this with you folks.
In this web site we bring the views  of the ancient world as it is today, and share my love of the land and its historical roots.
We are collecting information and photos from the Holy Land, in order to tell their stories, provide reviews and links, show views from these places. If you are interested in certain sites, please tell us about them.
Biblewalks, first aired on July 5, 2006, already has covered to date over 500 reviewed sites, with over 19,000 original photos in dual resolutions. We are in the process of adding more material and photos. This is a long process that will take some time (there are so many exciting sites around here… over 40,000 ancient sites in Israel!).
We hope you enjoy our web site, and walk with us through the Holy Land.
God Bless you all!
"Arise, walk through the land in the length of it and in the breadth of it…" (Genesis 13:17)
| | |
| --- | --- |
| Rotem, Israel |                             |
Staff
Other primary contributors to the site include sister Amit, my parents Orna and Yoram, and my uncles. We also receive assistance, photos and information from our good readers and archaeologists.
About photos and contents
Most of our web site contents are original: the web ware is carefully prepared, photographed, visited and researched by our staff. Almost all of the items are copyrighted; they may be used in other web sites, publications, public lectures or any other forms only after receiving our written permission in advance. In such case that permission is granted -we ask you to credit our web site in a visible way, and link to our home page.
You can also purchase photos – read more in our shop.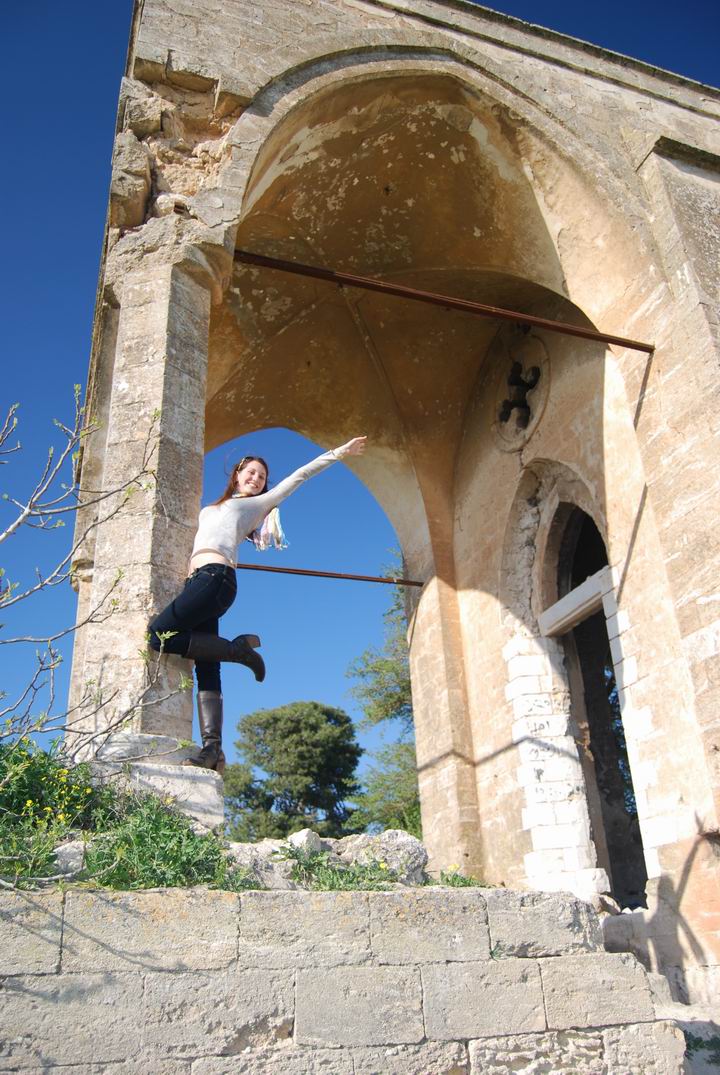 Rotem posing in the ruins of the Our Lady of the fright, Nazareth
You can help to support the web site!
We welcome donations, which will be used to further expand the web site and its presence.  If you like our site and want it to grow – consider a contribution to push it further.
Feedback and reviews on BibleWalks:
You can view a selection of the feedback we receive from readers:
BibleWalks Group:
We have additional web sites in the BibleWalks group, that provide additional content and photos. You may find them interesting to explore:
Jesus Walks (www.jesus-walks.com) – 100 events in 1000 last days
Holy Land Places (www.HolyLandPlaces.com) – Holy Land sites from above
---
Last Updated: July 23, 2022