This page provides an overview to the web pages, information and the  sites that are reviewed in BibleWalks.com, and focus on Jesus.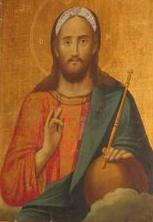 At: Nazareth Greek Catholic church.
Home > Info > Jesus – Overview
Jesus Acts: 100 events in the last 1000 days
   Check this tabular list, which maps the events to the sites in BibleWalks.com. It  summarizes the 100 events (acts, healing, travel and miracles) of Jesus in his last 1000 days. It provides references in the Four Gospels of the new testament, and points to the sites that are reviewed in BibleWalks.com.
    A pictorial "slide" presentation is also available in our daughter web site,  footsteps of Jesus.
Maps:
Check the following maps:
Biblical Sites Galleries:
Check our Biblical sites galleries that show the sites in the regions where Jesus had most of his activities:
Links
   Story of Jesus, walking thru the biblical sites of the Holy Land. A subtitle describes the event and the site, according to the tabular list of "Jesus 100 events in last 1000 days". Each event is mapped to our daughter web site which provides additional information for each event,
 Check out our pictorial presentation of the footsteps of Jesus.
---
BibleWalks.com – following His footsteps
St. Peter <<<—Previous info—<<< All Info >>>—Next Info—>>>  Jesus Footsteps
This page was last updated on Feb 22, 2020 (Add new Jesus travels map)