A geological wonderland, with smooth white rock formations, in the western Negev desert.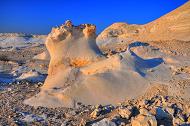 Home > Sites > Negev >  Nitzana  Hillocks (Nitzana Curves)
Contents:
Overview:
  Nature has used its magic to create a nature geological wonderland. Round, smooth white mounds  pose a wonderful lunar-like setting.
  The hillocks are made of white chalk. The soft stone was sculptured by the forces of nature – wind, sun, some rain – who shaped the rocks to a  smooth and rounded figures. On some of the hills are other types of harder stones such as flint, who resisted these forces, creating various shapes of crowns and mushrooms. This 'battle' between the soft and hard stones and the forces of nature created fantastic sights for nature lovers and landscape photographers.
Location and aerial map:
The area of the hillocks ( "curves") are close to the road from Nitzana to the Egyptian border.   You can park on the side of the road near the sign, then walk to the site.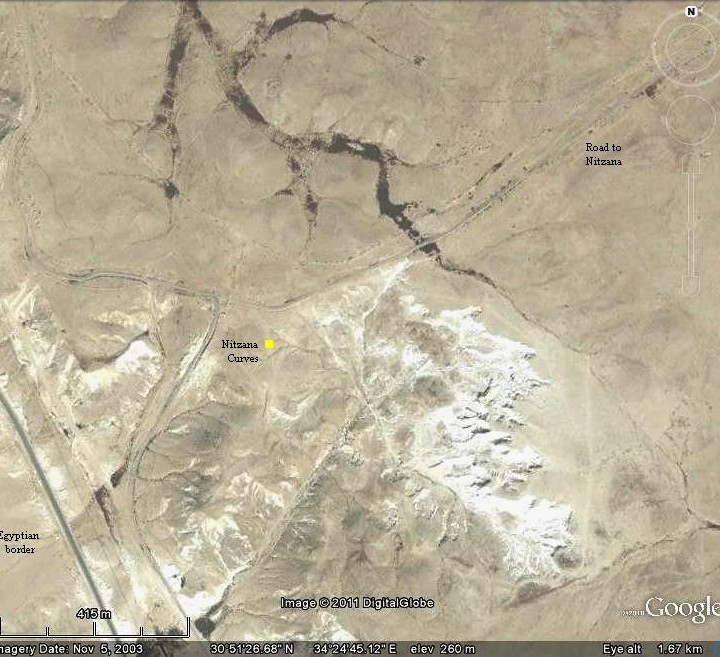 ---
Photos:
(a) On the road
A sign on the old road from Nitzana to the border is where you park the car and start walking. The distance is about 300m to the concentration of the hillocks.
  Click on the photos to view in higher resolution…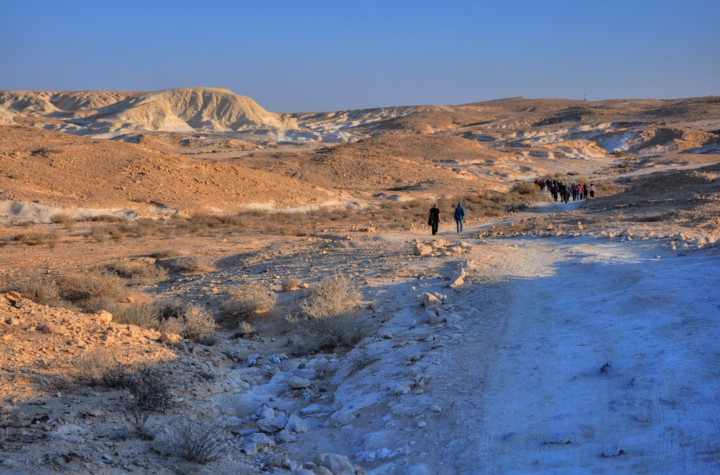 Along the road are views of the low desert area of the western Negev.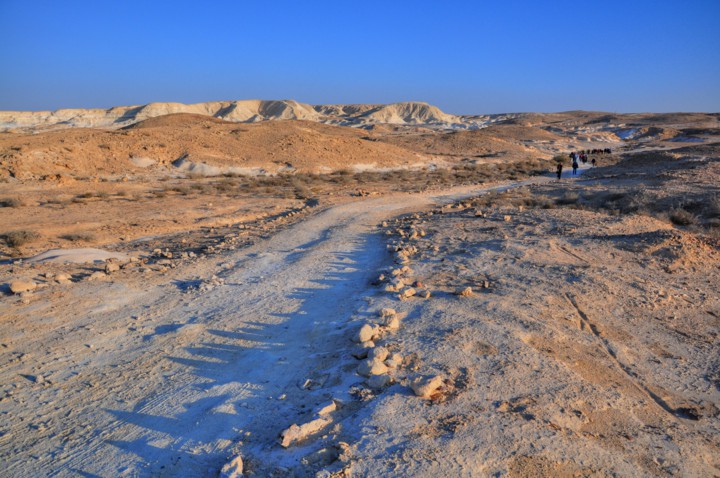 Some of the hills on the side have interesting rock formations, such as the dark flint stones scattered along the hillside in the following picture.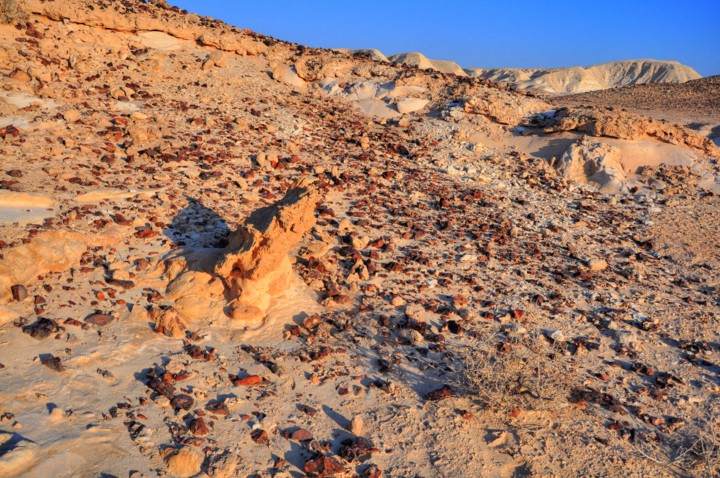 The light, smooth stone formations  start to appear under the surface. But wait – this is only a preview…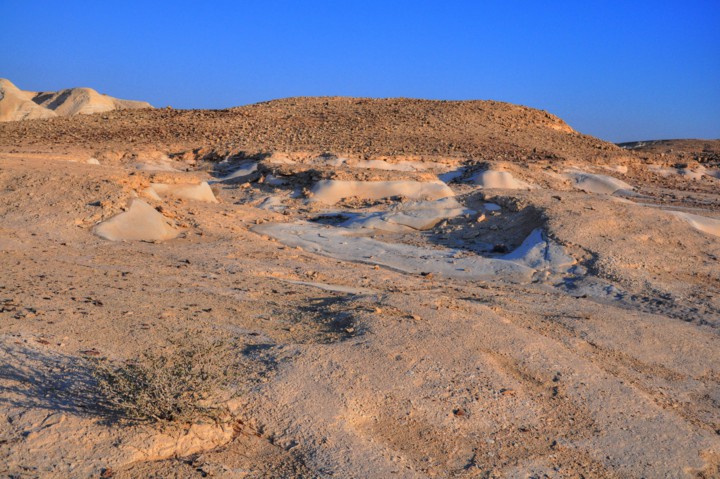 More of the "preview" formations: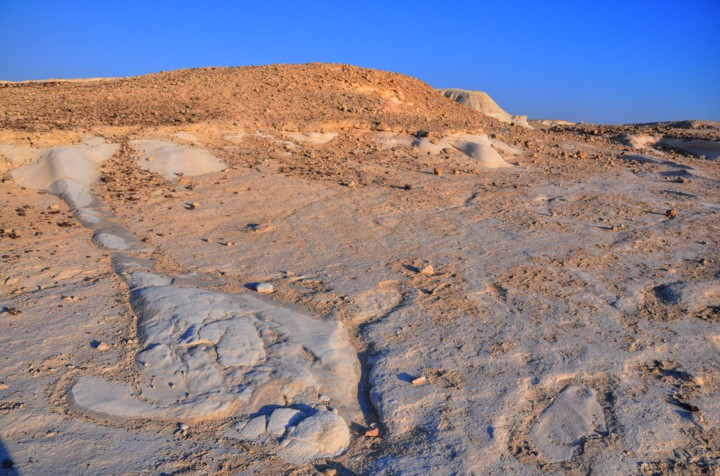 (b) Hillocks
The white curving hillocks finally appear at the end of the road. This is where you just wander around and put your imagination into gear.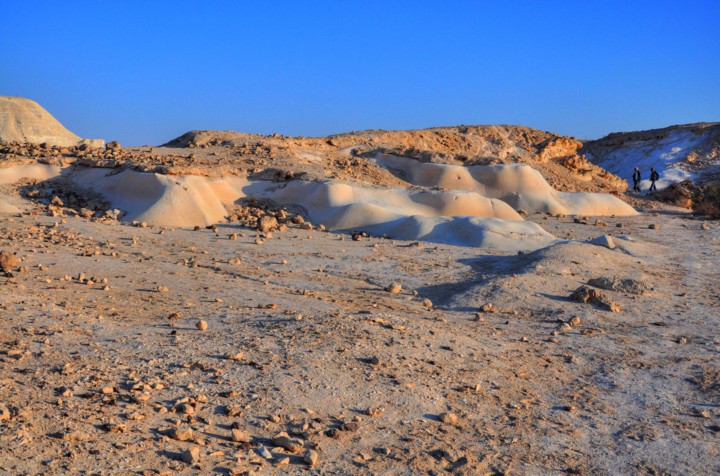 The light colored rocks, also called "Nitzana Curves" (or in Hebrew: Hamokei Nitzana),  look like human bodies lying in the sand, just waiting to be awaken.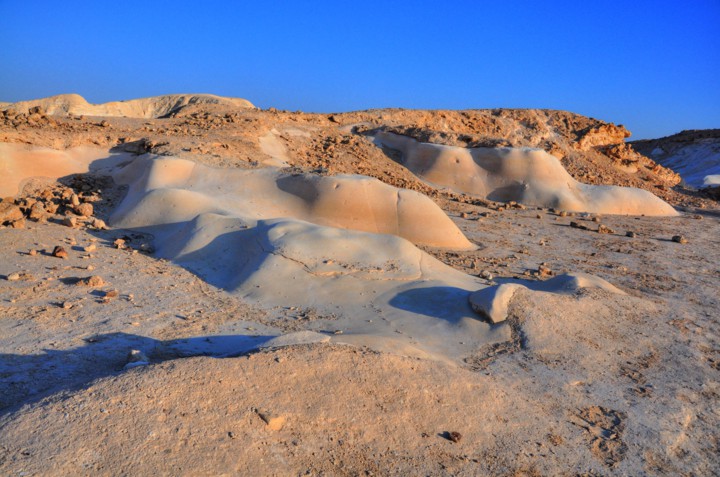 From any angle the nature show plays with your imagination…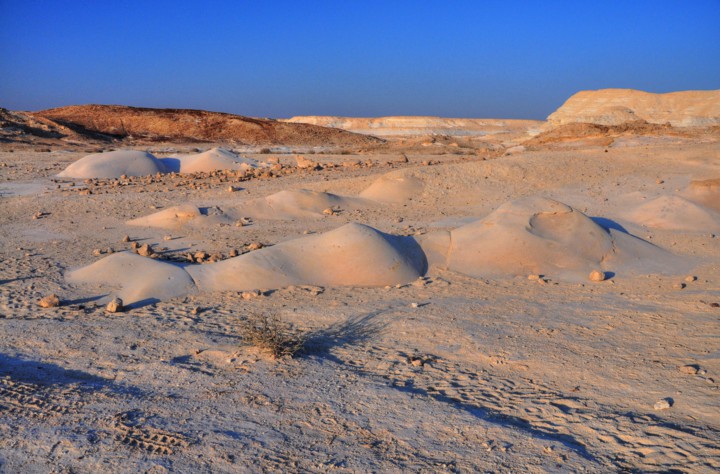 The wonderful scenes are a mix of the curving smooth stone, the shadows, the darker rocks around, and the blue sky.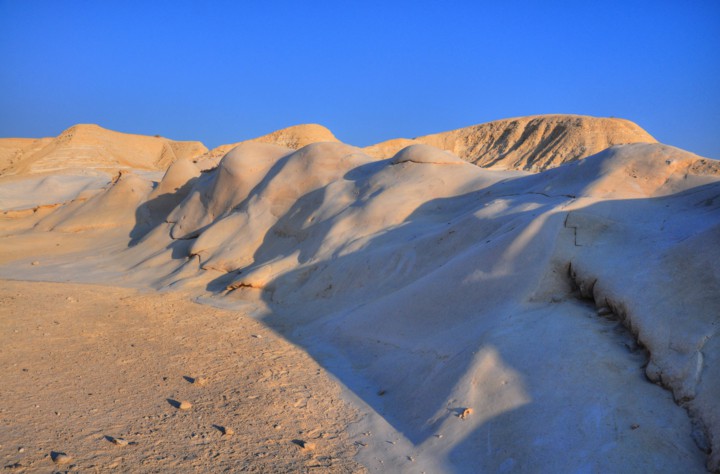 Let your sensations guide you through the majestic views….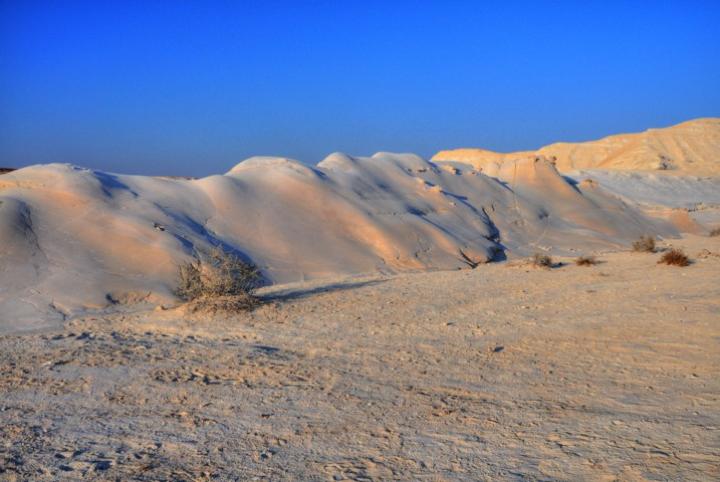 The best time for arriving here is the late afternoon and sunset, when the reds and yellows colors mix into the picturesque  scenery.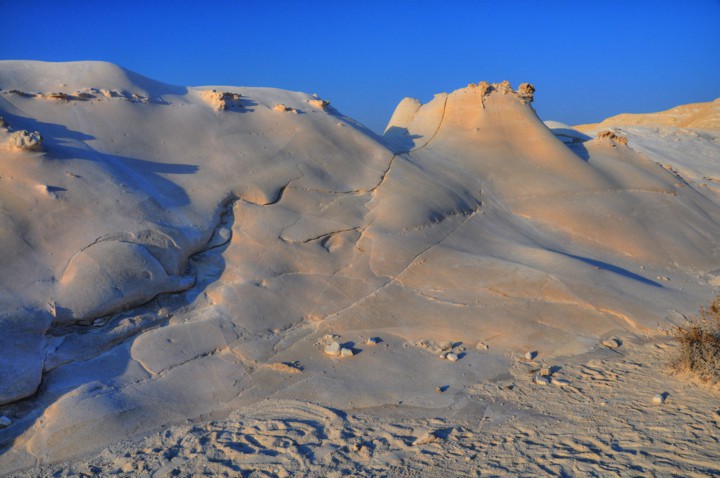 Some of the mounds have "crowns" on their tops: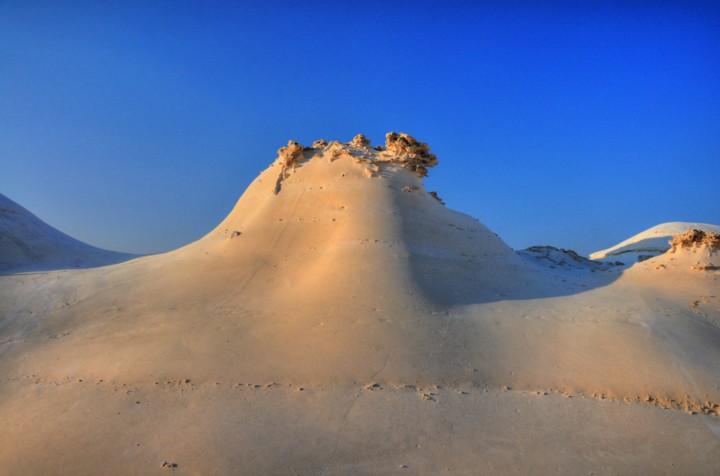 A "lunar" scene: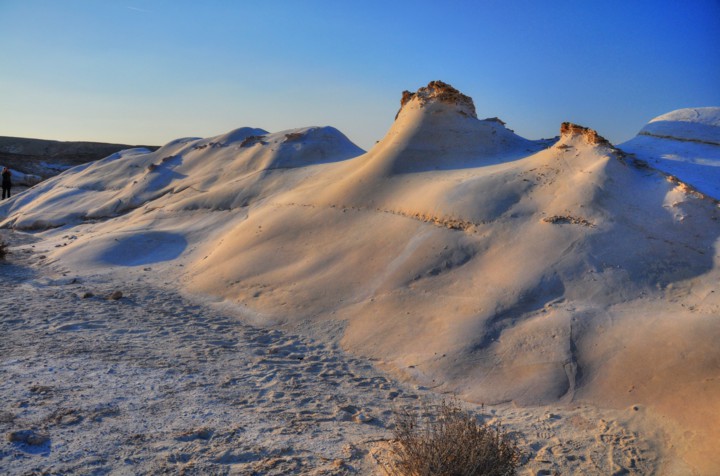 Other unique sculptures: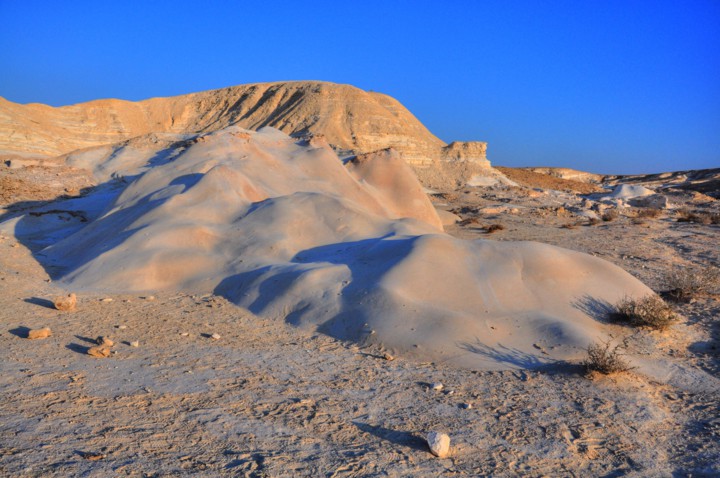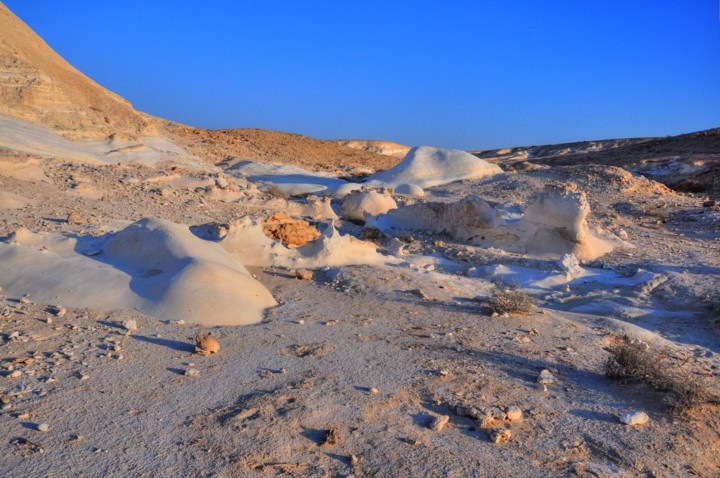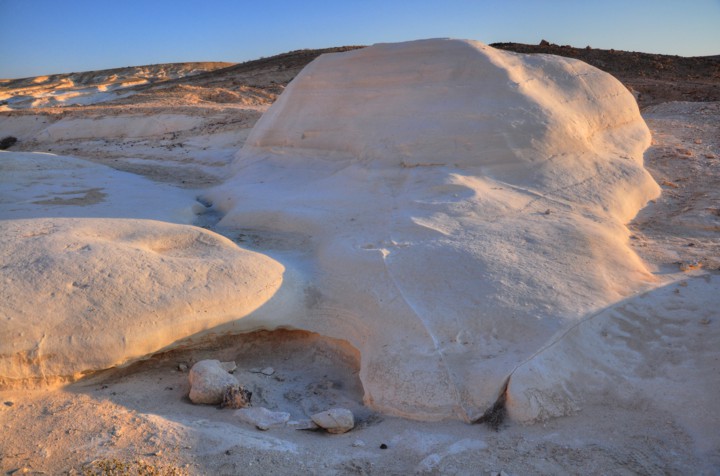 (c) "Mushroom" forms
On the south side of the area of the hillocks are several "mushrooms". A collection of photos is shown here.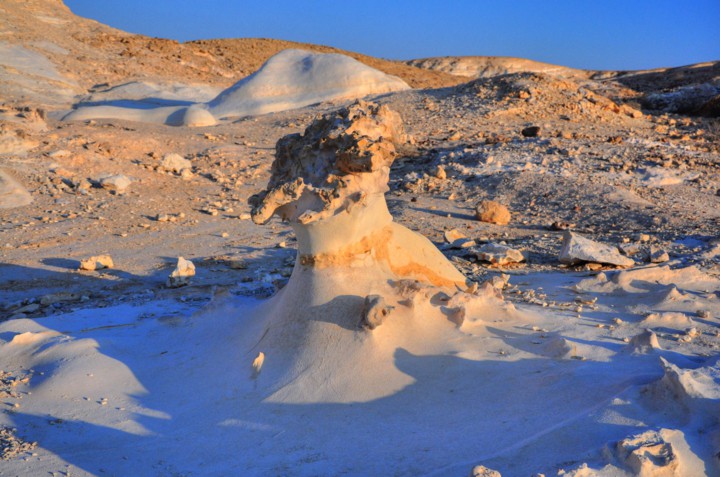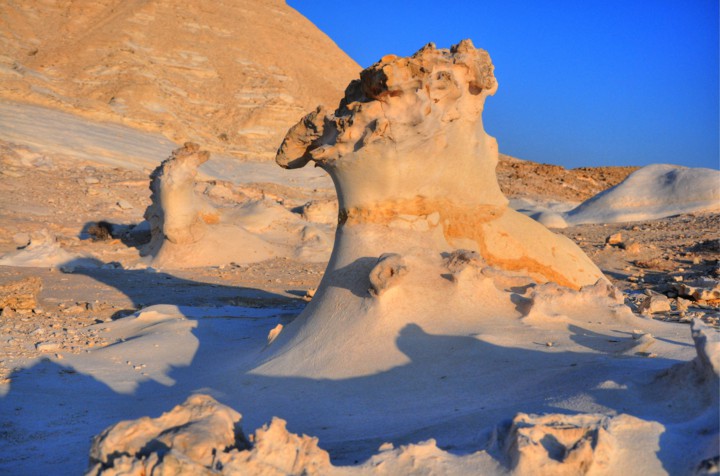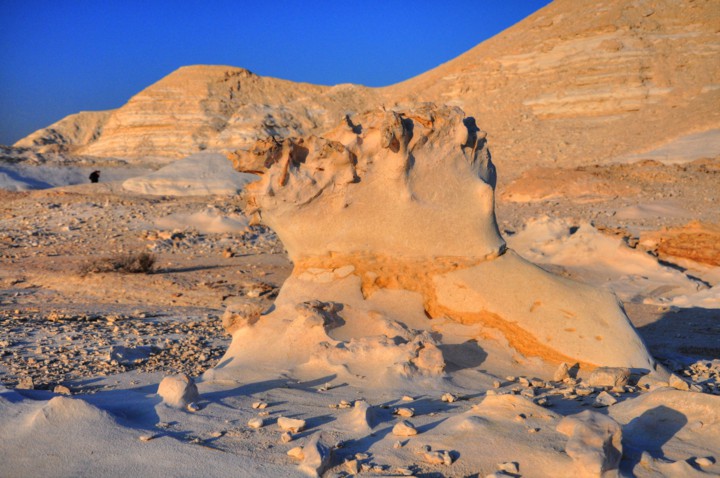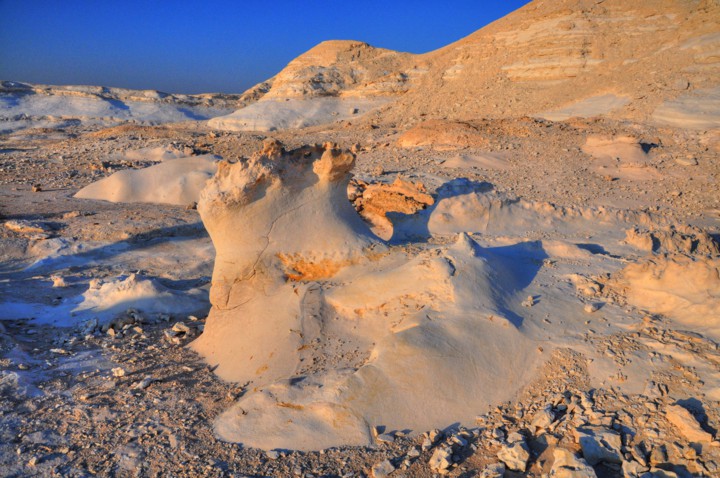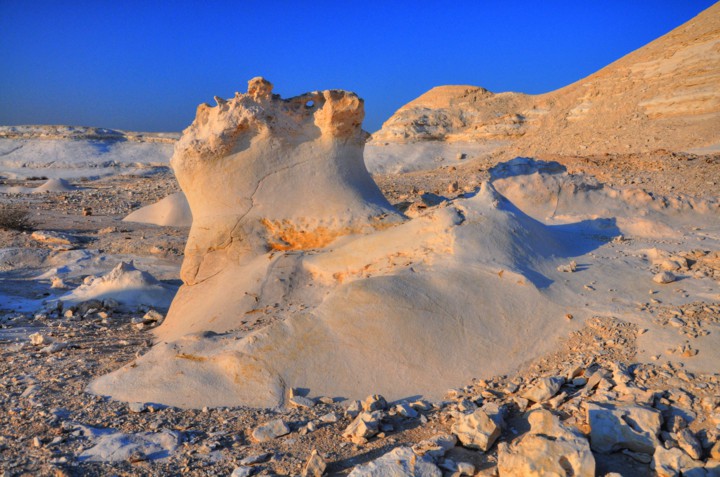 Etymology (behind the name):
Hillocks – a small natural hill
Hamokim – Hebrew for curves (of a female body)
Links:
* External links:
* Other nearby BibleWalks Negev sites:
---
BibleWalks.com – Ancient wonders in the Negev desert
Nitzana <—previous Negev site—<<<All Sites>>>—next site—>>> Nitzana Cave
This page was last updated on May 3, 2011
Sponsored links: